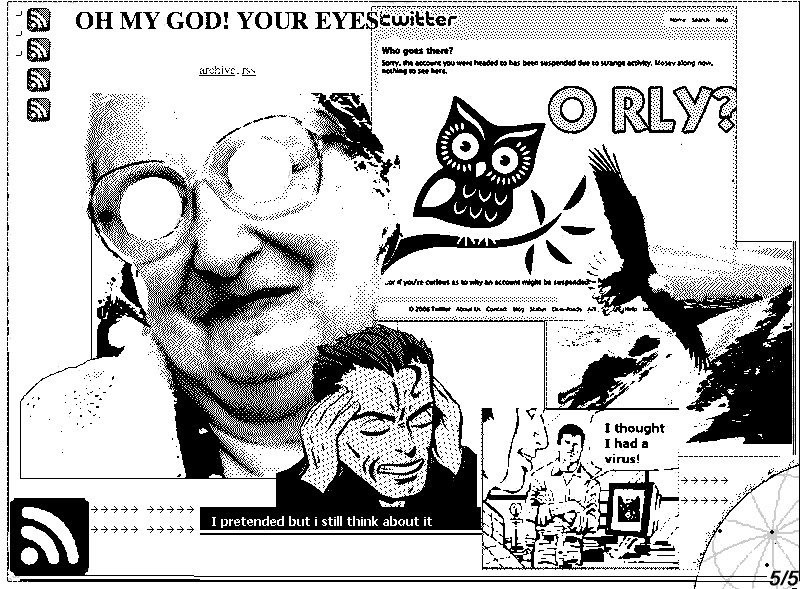 V. && ARTWARE RSS projects by Jake Elliott
a. "i know, LOL!"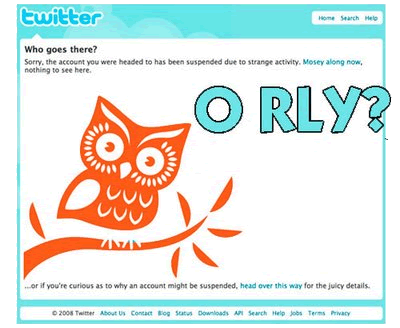 in Chicago, during the last daze of 2008 && the 1rst daze of 2009, Jake Elliott + Nicholas O'Brien created a short-lived Twitter Art project/account called "i know, LOL" was an account by the same name which was based on the Twitter API + listened for ppl saying "LOL" + then automatically replied to those Twitter users, saying "i know, LOL!"
"i know, LOL!" was very quickly "suspended due to strange activity" (to use the official statement/language of Twitter). i immediately Tweeted about it calling it Twitter Art, LOL.ART or webArt while Twitter defined this project as "spammy behavior" + suspended the account
following the suspended accout took you to a standard explaination of why the account "may" have been suspended. The reasons incl: "If you are sending large numbers of @reply messages that are not genuine replies, you may be considered spam."
these (automated) replies were "not genuine" from the perspective of Twitter. therefore this form of Twitter Art, LOL.ART, webArt, New Media Art, etc... can be easily (mis)understood/interpreted as "spammy behavior" by the cybernetic systems designed to protect Twitter from itself
as Elliott has said in presentations on his artware, this project opened his eyes to what was possible in the social space of communities created/linked through these RSS feeds/streams
i immediately used the self-same networks to self-consciously proclaim: "Twitter Art is Dead, Long Live Twitter Art!"
i also posted this untimely death announcement of Twitter Art (in the self-reflexive style of the much over-estimated|exaggerated deaths cries from inside of the form formerly known as "net.art") on Rhizome.org (1) my Rhizome.org post elicited a response from curt cloninger. in his response, cloninger states that Twitter is not "offended, legally threatened, or even critiqued" suggesting that these are negative attributes of "i know, LOL!", demonstrating "i know, LOL!"'s failure "to overtly (or even subtly) critique said networks". seemingly preoccupied with specific binary notions of success && failure, cloninger continues, saying that this "is the conundrum of critical art in the era of corporately commodified social networking."
cloninger apparently goes on to devalue "i know, LOL!" on the basis of his definitions of success. his standards applied in this case seem to include standards such as high visibility outside of what he calls "parochial net art circles", wide distribution, being deployed 'outside' of the network being utilized, functioning as a floodnet + existing "beyond a few screen shots, blog posts, and discussion board dialogues."
in a recent talk given by Jodi Dean, during the panel discussion Participationism and the Limits of Collaboration (2), Dean defines "communicative capitalism" in relation to ideas of openness and forms of resistance. she describes Communicative Capitalism as a Neoliberal ideological formation that fetishizes speech, opinion + participation, thereby complicating + question assumptions of the inherent "good" of participation, collaboration, openness, etc as "successful" strategies for critical practices
these questions resonate for me w/the standards proposed by cloninger while he was disparaging "i know, LOL!" however i think/feel it is worth noting that: (A) neither Elliott, O'Brien or myself have made claims for "i know, LOL!" being "critical" in the sense that either cloninger (hoped for?) or Dean works from in their statements; (B) "i know, LOL!" was very literally an inside joke, inside of Twitter + an outside joke. Elliott, O'Brien + myself were (@ that point) housemates + "i know, LOL!" was part of an ongoing creative/constructive discussion populated w/extended + recursive jokes within our immediate community that was literally transported/telegraphed/networked/streamed outside of that local specificity to the nets; (C) "i know, LOL!" ran for 6 hours, having a 6 hour lifespan + acquiring about 25 followers
b. Answers Only
http://twitter.com/answersonly
Elliott has previously stated that the "i know, LOL!" experiment provided a lesson that he would go on to use prolifically in the creation of multiple automajikal artware projects which exist primarily amidst RSS streams online
the 1rst of these projects to immediately follow "i know, LOL!" is Answers Only. the Answers Only project searches for and downloads answers from Yahoo Answers + tweets of ppl asking questions on Twitter. while building a database of Yahoo Answers answers && questions posted to Twitter, Answers Only attempts to map + match keywords in order to build somewhat reasonable responses + then posts those responses as answers to Twitter users who have asked questions to the nets by posting them via Twitter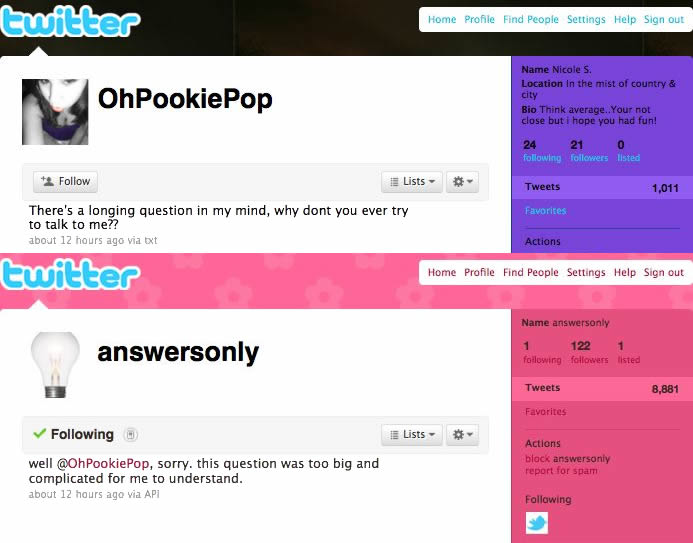 a recent example would be that Twitter user Nicole S. (OhPookiePop) posted the following question on Twitter:
"There's a longing question in my mind, why dont you ever try to talk to me??"
+ Answers Only replied to her:
"well @OhPookiePop, sorry. this question was too big and complicated for me to understand."
if this exchange has the familiar ring of the automated sounds of Turing Tests, Chinese Room experiments + Eliza effects it is due in part to the abstraction of the question that began the exchange. other exchanges have occurred between Answers Only + Twitter users that are more specific + in which the Twitter users who have been messaged attempt to engage Answers Only in an ongoing conversation, a conversation that Answers Only is incapable of



despite it's limited conversational abilities Answers Only now has 122 Followers. i am 01 of these Followers + i also sumtimes reply to Answers Only
Elliott has stated that he is engaged in working w/the what he has referred to as the "naive social space of people who believe that robots on Twitter are in actual conversation with them." this engagement extends + continues his work in online social spaces that are complicated/contested/confused by questions of valid authorship, stable identities, the differences between machine-generated spam + human-originated communications, etc
in terms of stability, Answers Only also has a number of consistent friends/Followers. Elliott suspects that sum of these are themselves also Twitter Art projects but those have also been as of yet unattributed projects, semi-anonymously projecting their Twitter accounts/RSS streams into the nets
c. The Same Eagle Is in All These Pictures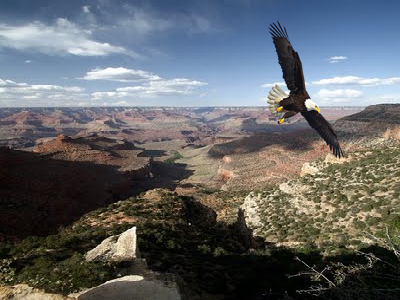 http://thesameeagleisinallthesepictures.tumblr.com/
Elliott turned next to tumblr as a platform for bringing together his ideas for experimental New Media Artware, social software, RSS streams, online identities, etc
in The Same Eagle Is in All These Pictures, Elliott has created a tumblr account which produces a steady stream of images in which the same eagle is composited onto the results of Google image searches for terms related to positively-valued traits of American landscapes
01 of the most exciting outcomes of this remix/mashup logic are the unexpected backgrounds on which the same eagle is seen flying. in other words, for Followers of The Same Eagle Is in All These Pictures such as myself, watching the algorithm move, edging around ideas of what constitutes "American landscapes" holds a particular power. perhaps while not always exactly as beautiful as the now-famous "chance encounter of a sewing machine and an umbrella on a dissecting table" these are certainly aesthetics of dislocation, recombination, automagical remix + algorithmic mashup through the found materials of digital cultures
d. I Am Busy Doing Research


http://iambusydoingresearch.tumblr.com/
I Am Busy Doing Research brings images of computerized digital labor together via a woman who is working @ her computer, ostensibly researching various topics. I Am Busy Doing Research searched Twitter for Twitter users who are stating "I am researching..." the topics that they are researching are then reprocessed and mined as Google image search terms. the results of this process are then composited into the computer screen that the woman is working on. the reprocessed text is also added to the images as captions, explaining what it is that she is researching
her endless research streams on + on via this tumblr account. she is in her office everyday, working, researching, unmoving, w/a stream of topics/consciousness algorithmically rendered on her screen. her hand is positioned on the mouse, tentatively, as if mid-click, from 01 link to the next, researching... surfing... just chilling... in her office @ her computer screen
she could easily be part of the Bored At Work Network (BWN) or a digital cultural engineer, figuratively authoring the stream we see rendered on her screen. in any case, her position/predicatment is familiar to many who work w/in digital culture. as Brian Droitcour recently wrote on Rhizme.org young artists/curators are also working w/these positions + timespaces. in particular Droitcour writes in relation to the JstChillin... (3) project that online "Chill time is simultaneity of the recent past and lagging present, the sum of attempts to track some threads into the past and push others toward the future." (4) + as he quotes Jstchillin founders Caitlyn Denny + Parker Ito as saying this is an experience of living "in a constant state of multiplicities, a flow of existence between web and physicality." (5)
e. I Thought I Had a Virus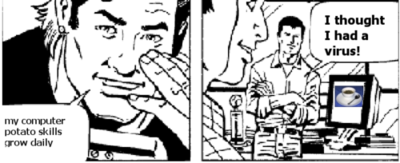 http://ithoughtihadavirus.tumblr.com/
I Thought I Had a Virus is, as Elliott states, part of this ongoing "series of microblog artware mashups". I Thought I Had a Virus is a tumblr account as a web comic with only 01 recurring punchline: "I thought I had a virus!" Again, a twitter search + a Google image search are recombined to create variations on a comic strip. I Thought I Had a Virus documents the life of, as Elliott has said, a guy + his computer ++ all the weird stuff his computer does to make him think that he has a virus



i see a strong connection between Elliott's I Thought I Had a Virus + David Rees' Get Your War On which ran from 2001 - 2009. (6) a number of notable differences + similarities exist between these 2. similarly to Rees' use of a limited catalog of clip art images of office work/workers (w/the occasionally surprising appearance of stars from other universes such as Voltron), I Thought I Had a Virus features only 2 stable image frames, 2 unmoving characters. of course the web/net specific dialog on infected computers differs from the political critiques mobilized in Get Your War On but the humor of these 2 web comics is sum how similar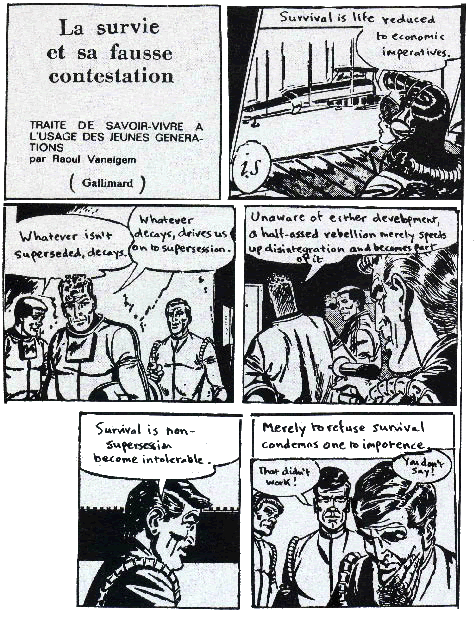 another point of reference is the act of Situationist detournement that Elliott has reappropriated w/his I Thought I Had a Virus project. as Amber Frid-Jimenez writes in her thesis Leave Any Noise at the Signal: Participation Art Online, the Situationist Raoul Vaneigem rewrote comics in his La Survie Et Sa Fausse Contestation, demonstrating "the broad Situationist desire to jolt people out of complacency by activating viewers." (7) more a self-recursive Situationist displacement then Surrealist dislocation, this project seeks to repeatedly detourne the same semiotic symbols, undoing itself in the process. I Thought I Had a Virus is caught in a kind of obsessive-compulsive loop in which a character is constantly afraid that he has a virus, his computer infected endlessly by the stream of automated non-singular + yet not-collective consciousness of RSS streams + Google image searches
f. OH MY GOD! YOUR EYES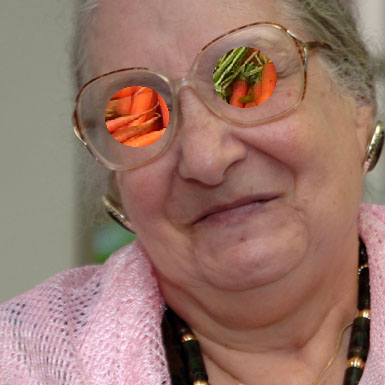 http://ohmygodyoureyes.tumblr.com/
comparatively direct, OH MY GOD! YOUR EYES is another tumblr account artware project of Elliot's in which a Twitter search for descriptions of eyes is "pushed through" a Google image search w/the results being composited with textual descriptions into an older woman's eyes. Elliott has literally cut out her eyes, replacing them w/descriptions of eyes, as offered by the online social community of Twitter. this older woman's vacant eyes, 2 transparent holes, display behind or inside her slightly smiling face, an ongoing stream of images related to the textual descriptions of eyes offered via Twitter users
w/her pink, greying hair + empty eyes constantly being refilled OH MY GOD! YOUR EYES is even more directly a form of portraiture, rendering a portrait of a composite identity in the context of a tumblr account. this context is of importance, as tumblr accounts are often used as forms of self-portraiture in the same ways as which ppl use contemporary social software to render themselves by displaying a stream of their thoughts, feelings, desires, descriptions, choices, favorites, likes, photos, etc...
or, as Marcel Duchamp may have once said: "The artist of the future will simply point..."
g. Kitten Glitches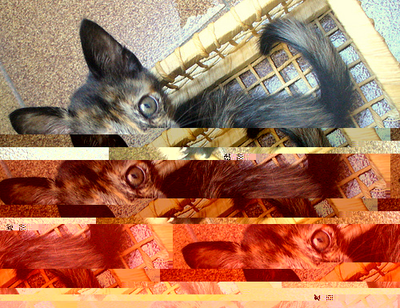 http://kittenglitches.tumblr.com/
the Kitten Glitches directs the artware engines that Elliott has developed towards a recombination of Glitch Art, LOLCATs, folksonomies + Flickr photos. Kitten Glitches takes images posted to Flickr that Flickr users have tagged w/the term 'kittens' + processes those found objects w/a "pseudorandom automatic databending script" then posting to a tumblr account. Elliott also, in this case, openly offers the Python source code for this artware project online
i believe Kitten Glitches to have been inspired in part by the Satromizer by Ben Syverson. Jon Satrom (on whom the Satromizer is based), Ben Syverson (the artware developer who created the Satromizer) + myself are among the co-founders of previous versions of the critical artware project, a project which is currently constituted by myself, Jake Elliott, Tamas Kemenczy + Mark Beasley (8)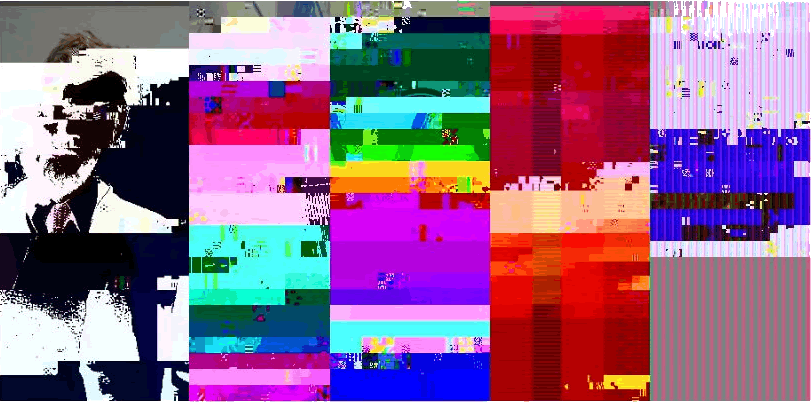 the Satromizer for iPhone™ is "the world's first multitouch glitch tool" + as Ben Syverson writes, The Satromizer is "a unique artware for the iPhone™ and iPod® Touch". (9) Syverson also writes that he "has created many versions of the Satromizer with Jon over the years". (10) the 1rst versions of the Satromizer were in fact developed by Syverson when he + Satrom were both students of mine in 2001 in the Radical Software/Critical Artware course i developed in the Film, Video & New Media Department @ The School of the Art Institute of Chicago. the initial Satromizer emerged from a discussion/consideration of Brian Eno's speculative Eno Box in the context of this studio course on Artware development. in 1995 Brian Eno was interviewed for Wired Magazine by Kevin Kelly. during this interview Kelly asked Eno:
"If I could give you a black box that could do anything, what would you have it do?" (11)
Eno replied:
"I would love to have a box onto which I could offload choice making. A thing that makes choices about its outputs, and says to itself, This is a good output, reinforce that, or replay it, or feed it back in. I would love to have this machine stand for me. I could program this box to be my particular taste and interest in things." (12)
Eno continued in his response to a follow up question:
"...I want to be able to sell systems for making my music as well as selling pieces of music. In the future, you won't buy artists' works; you'll buy software that makes original pieces of "their" works, or that recreates their way of looking at things. You could buy a Shostakovich box, or you could buy a Brahms box. You might want some Shostakovich slow-movement-like music to be generated. So then you use that box. Or you could buy a Brian Eno box. So then I would need to put in this box a device that represents my taste for choosing pieces." (13)
i've included those quotes to help to illustrate what i believe to be a critical media art hystories of the developments of these systems of thought/action + artware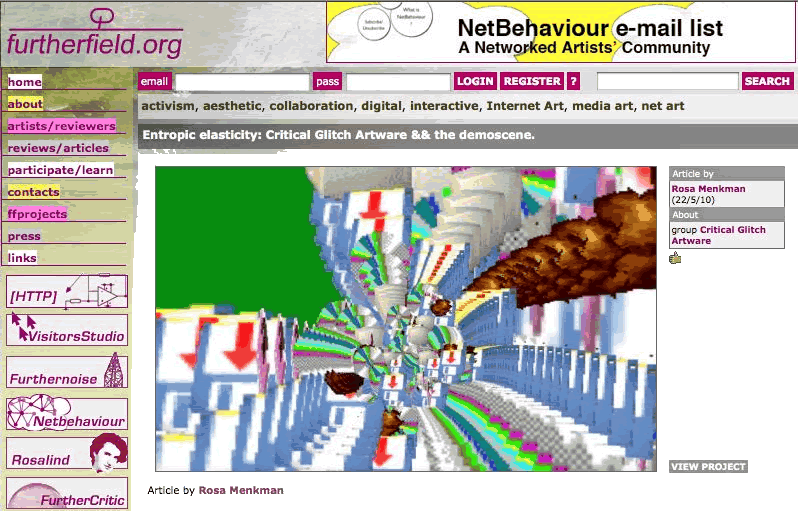 Jason Scott has said of our Chicago-based community that is the "birthplace of dirty new media" (14) or as Rosa Menkman wrote here on Furtherfield in her review of our project entitled Entropic elasticity: Critical Glitch Artware && the demoscene: "Criticalartware is now foregrounding these glitch art works (with an emphasis on the procedural/software works) that have been on a 'pivotal axis' of the crew for a long time." (15) together, we have been creating + enabling a dynamic community of Glitch, Noise & Dirty New Media Art to develop in experimental, often collaborative, open exchanges in what Menkman has referred to as our networked glitchscene(s) (16)
in a cyberpsychadelic feedback/forward loop of IRL social software, Elliott's Kitten Glitches artware project undoubtedly influenced a subsequent project by Satrom entitled Purrflux:
http://jonsatrom.com/projx/purrflux/Site/Welcome.html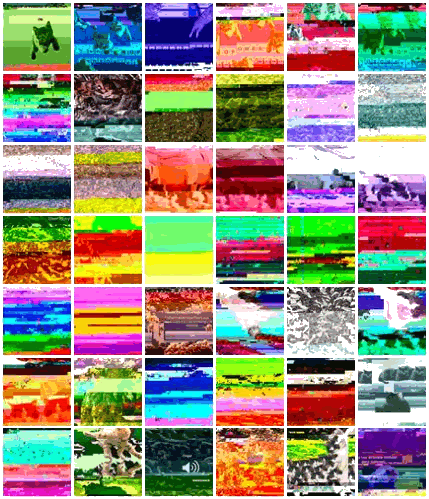 http://www.flickr.com/photos/jonsatrom/sets/72157623148447664/

Purrflux
from jonsatrom
on Vimeo
.

Satrom created the images + video the comprise Purrflux in December 2009 for the iPhone therefore iArt show held January 8 @ Chicago Art Department. (17) this exhibition was positioned as "exploring the iPhone as creative tool" + Satrom's Purrflux project directly engaged the iPhone as an art material/context/platform in a similar way in which Elliott's projects which are discussed here engage w/tumbr, Twitter, Google, APIs + RSS feeds as art materials, contexts + platforms in + of themselves
h. I Pretended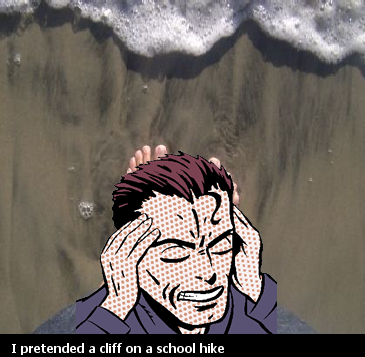 http://ipretended.tumblr.com/
Elliott's most recent Artware RSS project, I Pretended, finds Twitter search results for the phrase "I pretended" then reprocesses and mines those results as Google image searches. the results of these 2 searches are then visually merged, again in a comic style, compositing these images with their reprocessed text as captions. a pained male figure grits his illustrated teeth + pushes on his temples w/his hands in every image that this artware machine makes. behind him are the doubled/intertwined results of the Twitter + Google image searches. below him are the textual captions
I Pretended is perhaps among the most efficient of Elliott's artware machines @ producing disturbing recombinations in the Pop Art/Web Art mashup style that Elliott is developing in these Artware RSS projects/accounts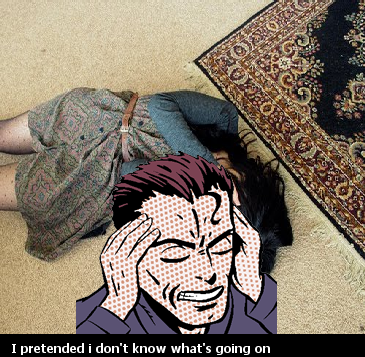 http://ipretended.tumblr.com/post/741917283/i-pretended-i-dont-know-whats-going-on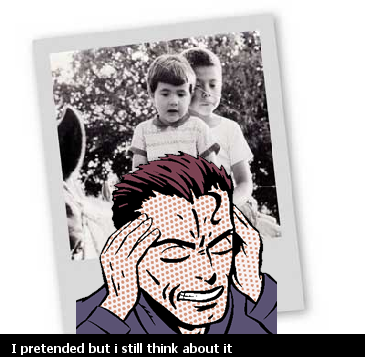 http://ipretended.tumblr.com/post/730695508/i-pretended-but-i-still-think-about-it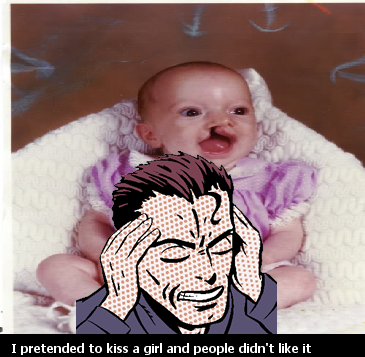 http://ipretended.tumblr.com/post/694516816/i-pretended-to-kiss-a-girl-and-people-didnt-like
are among sum recent examples of I Pretended disturbing behavior
as Elliott has expressed, these projects are primarily informed/inspired by image macros, i.e. the LOLCATs meme, as a digital cultural form. but unlike those points of reference, Elliott's Artware RSS projects/accounts/machines are automatically generated. Elliott has observed that the power of image macros often relies on the author being clever, i.e. demonstrating an uncanny, irreverent, sarcastic, ironic combination/contradiction of text + image. this form of skilled authorship is expressly not Elliott's goal or motivation. rather, he seeks to develop a form of automated + often unpredictable computer synthesis while still foregrounding the conceptual availability of the algorithms that are being implemented. as such these projects constitute a mashup of definitions of Algorithmic Art, retooling systems in the Meme Factory that exists online
these projects rely on publicly available APIs, the Google Search API, Twitter API, etc + Elliott also makes his own Python source codes available, i.e. directly through Kitten Glitches or more conceptually through explanation + their literal implementations
these instruction sets are machines for making conceptual artware, in the mode of Sol Lewitt's 1967 quote from Artforum as requoted by Saul Albert in his 1999 essay Artware: "The idea becomes a machine that makes the art" (18)
as w/other mechanical reproductions + mechanized or especially digitized labor, these machines are _extremely_ prolific. Elliott has also stated that this is an important aspect/goal of the work in that these accounts/streams can be discovered for the 1rst time after they have automajickally produced thousands of results/posts
+ Elliott himself, is _extremely_ prolific having made 8 of these projects/accounts since i originally conceived of wryting this series on lists, boards, friends + feeds. additionally, Elliott has produced other artware mashup/remix projects during the same period (19), individually developed a number of indy/Art Games (20), started an independent game development lab (21) among other projects... all of which have enjoyed successes such as widespread circulation + participation in their specific contexts + communities
i. IN.F3XXX10N.US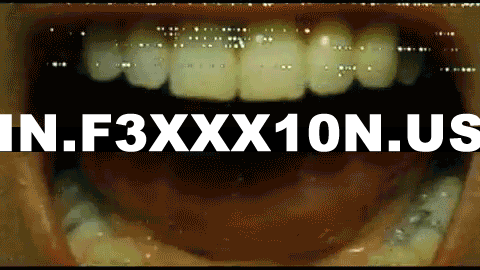 it is mayhaps fitting that i complete this unfinished series now when Elliott + i have now organized + initiated IN.F3XXX10N.US, an online art exhibition, running from July 1 - July 31 2010 on tumblr. during the run of the exhibition we have been promiscuously spreading && sharing our passwords for the exhibition:
OUR EXHIBITION EMAIL: INF3XXX10N@GMAIL.COM
OUR EXHIBITION LOGIN: http://www.tumblr.com/login
+
OUR (current reset) EXHIBITION PASSWORD: 1nF3kkkT3d
so that interested parties/agents can infect us @ IN.F3XXX10N.US
we are alrdy infected by all of Elliott's Artware RSS streams/feeds which i have been discussing + detailing above
additionally, Elliott has created a new machine especially for this exhibition but rather than detail that system, i will leave it potentially hidden, as it has insinuated itself seamlessly into the flow of the exhibition. mayhaps those of you reading this txt will want to pix it out or will otherwise login + effect/affect the directions we move in as we tingle tangle thru vasty webs of lists, boards, friends + feeds.
- jonCates 2010.07.22

1. http://rhizome.org/discuss/view/41347
2. http://vimeo.com/13219623
3. http://jstchillin.org
4. http://rhizome.org/editorial/3659
5. IBID
6. http://www.mnftiu.cc/category/gywo/
7. http://www.amberfj.com/participation/thesis/
8. http://criticalartware.net
9. http://bensyverson.com/software/satromizer/
10. IBID
11. http://www.wired.com/wired/archive/3.05/eno_pr.html
12. IBID
13. IBID
14. http://www.demoparty.us/2009/speakers.shtml
15. http://www.furtherfield.org/displayreview.php?review_id=391
16. IBID
17. http://www.chicagoartdepartment.org/2009/12/iphone-therefore-iart-friday-january-8-6-10pm/
18. http://twenteenthcentury.com/saul/artware.htm
19. http://dai5ychain.net/category/artware/
20. http://dai5ychain.net/category/games/
21. http://cardboardcomputer.com